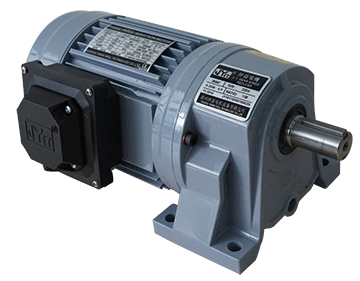 1.Zhongyi Motor (former Taiwan Huang-Yi reducer) is the first Taiwan manufacturer to supply professional gear motors for automated parking systems across continents, since then we have over 38 years of experience, brand recognition, and consistent good quality.
2."Zhongyi", "JYET" brand gearmotor [Trademark Registration No.: (1.) 4979748 (2.) 5016516] has professionally designed features towards parking systems
3.Profession, expertise, special chassis design, strong and light weight [Patent Number: No. 4881315(China)]; better waterproof design, safe and durable [Patent Number: No. 4885347(China)]
4.With our own product structure design patents, such as Japan, mainland China patented design [Patent Number: No. 54600(China), No. 1000021(Japan)] , the chassis integrally molded of high strength, small size, light weight, easy to install. Superior durability and quality.
| | | |
| --- | --- | --- |
| Box No. | HP | Nomical Ratio |
| 65DX(65 shaft-horizontal) | 7.5KW | 1/40(35.50rpm),1/75(18.93rpm),1/90(15.78rpm) |
| 60DX(60 shaft-horizontal) | 7.5KW | 1/30(47.33rpm),1/40(35.50rpm),1/50(28.40rpm),1/60(23.67rpm) |
| 65DX(65 shaft-horizontal) | 5.5KW | 1/85(16.71rpm),1/90(15.78rpm),1/100(14.20rpm),1/115(12.35rpm) |
| 60DX(60 shaft-horizontal) | 5.5KW | 1/30(47.33rpm),1/40(35.50rpm),1/50(28.40rpm),1/60(23.67rpm),1/75(18.93rpm),1/80(17.75rpm) |
| 60DX(60 shaft-horizontal) | 3.7KW | 1/115(12.35rpm),1/120(11.83rpm),1/130(10.92rpm),1/140(10.14rpm) |
| 50DX(55 shaft-horizontal) | 3.7KW | 1/50(28.40rpm),1/60(23.67rpm),1/90(15.78rpm),1/100(14.20rpm) |
| 50DX(50 shaft-horizontal) | 3.7KW | 1/50(28.40rpm),1/60(23.67rpm),1/90(15.78rpm),1/100(14.20rpm) |
| 50DX(55 shaft-horizontal) | 2.2KW | 1/60(23.67rpm),1/75(18.93rpm),1/80(17.75rpm),1/85(16.71rpm),1/100(14.20rpm),1/120(11.83rpm) |
| 50DX(50 shaft-horizontal) | 2.2KW | 1/60(23.67rpm),1/75(18.93rpm),1/80(17.75rpm),1/85(16.71rpm),1/100(14.20rpm),1/120(11.83rpm) |
| 45FX(45 shaft-vertical) | 2.2KW | 1/50(28.40rpm),1/60(23.67rpm),1/75(18.93rpm),1/80(17.75rpm),1/90(15.78rpm),1/100(14.20rpm),1/120(11.83rpm) |